Lilly Reid Ceramics
handmade ceramics inspired by nature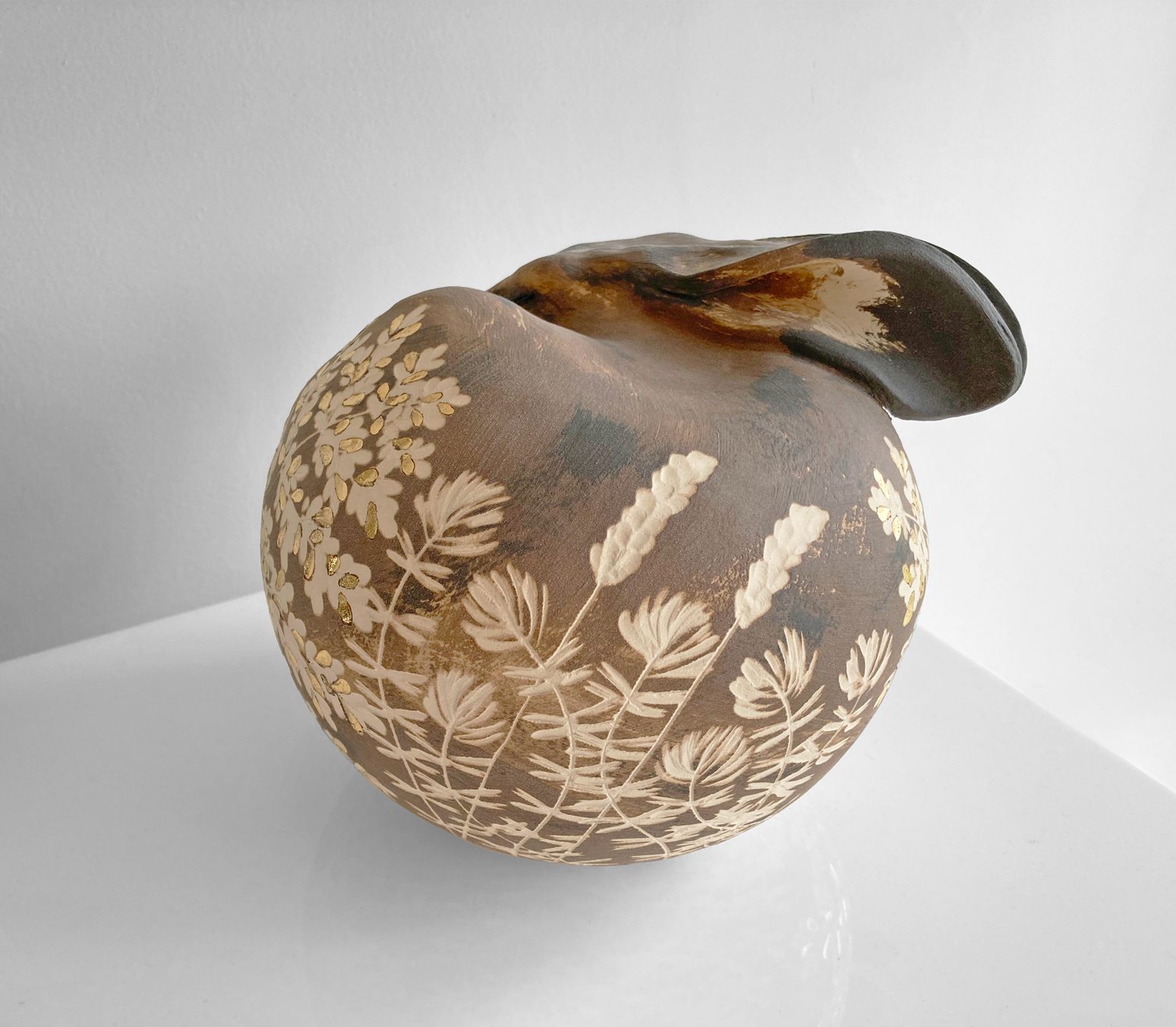 Merging pottery and sculpture
"An ode to the ceramics industry"
My stoneware and porcelain ceramic forms are a unique mix of wheel thrown pottery and hand built sculpture, that depict British wildlife asleep within the flora (such as foxtail and Yorkshire fog). The inspiration for my sculptures evoke the golden age of British childrens illustration, such as Beatrix Potter and Walter Crane (Aesop's Fables).
My work is also an ode to the ceramics industry, which I have grown to love. This being the sculpture, wheel thrown pottery and the sgraffito techniques used to create each piece.
I hope to depict a unique take on the British countryside that is also contemporary in form and beautiful to look at.






Handmade Ceramic Sculptures
Art that evokes nostalgia
Starting from the ground up, with a passion to create art thats feels at home
Entirely self taught, I have been working with ceramics since I can remember. First discovering the joys of clay whilst playing in the farmers fields my mother kept her horses. I would entertain myself by sculpting animals out of the raw clay and allowing the sun to dry each piece. Little did I know this would become a life long obsession.
Later in life I adapted my artistic skills into a 15 year career within the digital industry, directing a team of independent website designers and developers and creating one of the industries leading multinational, white label digital agencies.
Although successful, I never fully felt fulfilled in the day to day and would often return to my passion of ceramic sculpture, studying every aspect (from mass production to modern techniques) as a hobby.
In 2019 I decided to take the plunge and focus my spare time creating a range of small ceramic gifts to sell at the local artisan markets. I have been blessed to find a strong client base, who have been keen to see my sculptural forms evolve into the gallery range I offer today.
In brief, my work is an accumulation of my childhood, my love of the ceramics industry and the encouragement received from the wonderful artisan community.
Wonderful days out and gift ideas
Galleries & Stockists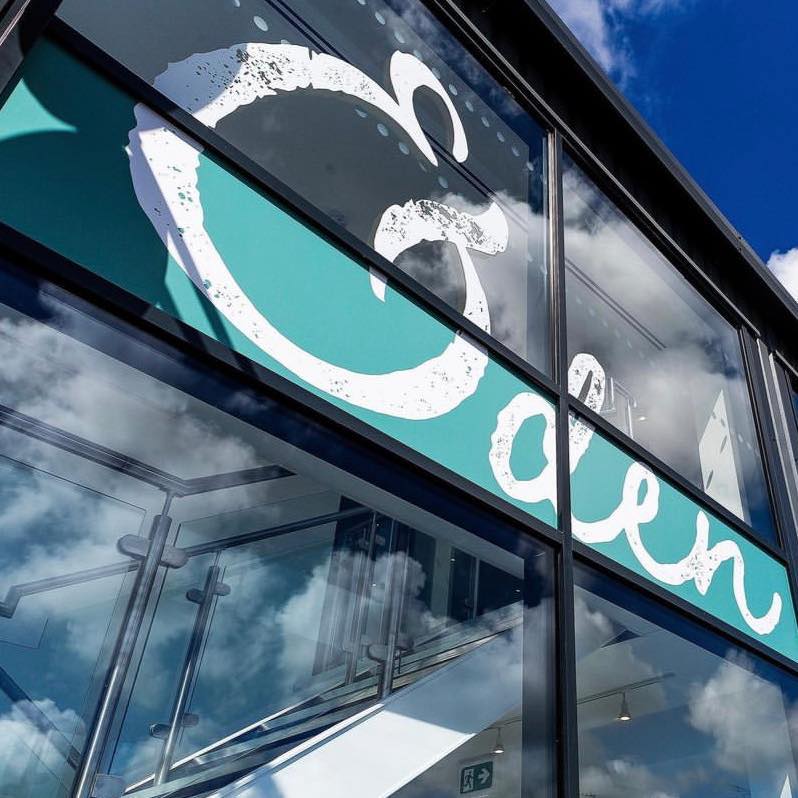 A stone's throw away from the famous Parbold Hill, Eden's 4000 Sq Ft two floor building houses a tearoom, art gallery, artisan retail and a workshop area.
Eden exhibitions draw together a wide range of artists under a common theme, offering a curated experience for art lovers and anyone with a creative eye. Housing regular workshops and demonstrations from the artists themselves and Edens wonderful treat filled tearooms just upstairs, you have no excuse not to visit.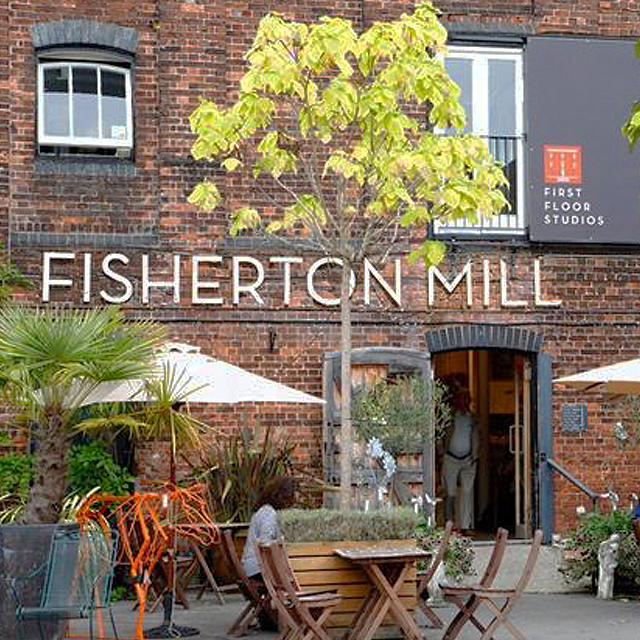 Fisherton Mill Gallery and Café, is the largest independent art gallery in the South West.
Focusing on premium quality and craftsmanship, with mouth-watering treats from multi award-winning chef and proprietor Michael Fox, new barista coffee bar 'the Café' and courtyard full of independent shops which, together with the Mill Gallery and the upstairs creative studios, offer a huge selection of artisan crafts, jewellery and homewares to tempt the discerning buyer.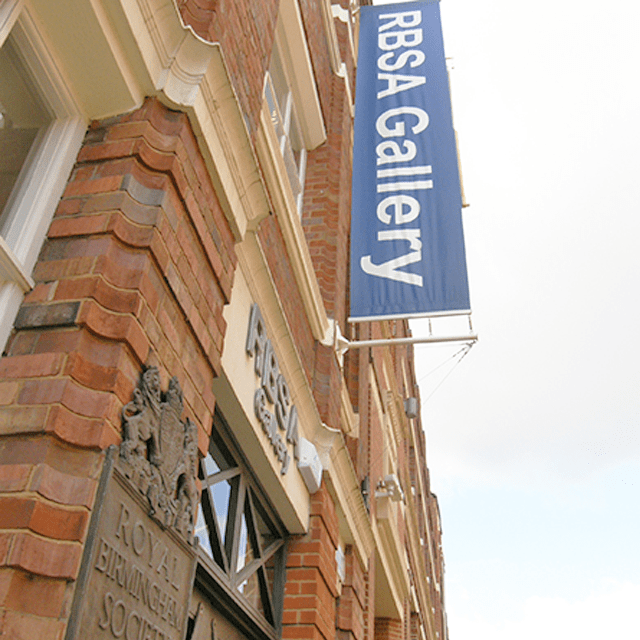 The Royal Birmingham Society of Artists (RBSA) was established in 1814 with the Collection & Archive dating to the early 1800's. It is an artist-led charity which supports artists and promotes engagement with the visual arts through a range of exhibitions, events and workshops.
The RBSA runs an exhibition venue, the RBSA Gallery, in Birmingham's historic Jewellery Quarter, a short walk from the city centre.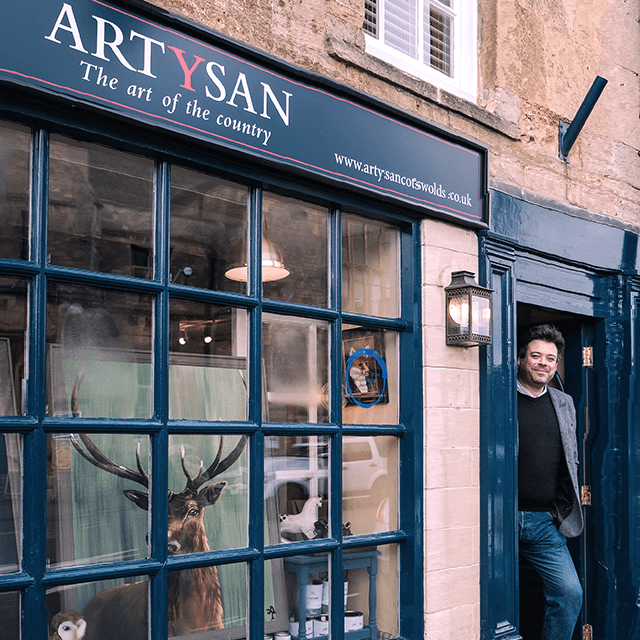 Artysan is a unique contemporary country art gallery in the heart of the picturesque Cotswold town of Stow-on-the-Wold. Hosted by the welcoming owner Don and filled with beautiful works of art such as original paintings, limited edition prints, ceramics, sculpture and glass.
The shop itself is surrounded by many fine antique shops, art galleries, gifts and crafts. Artysan is beautifully nestled within an abundance of inspiration and glorious views, with the Cotswolds countryside at their doorstep.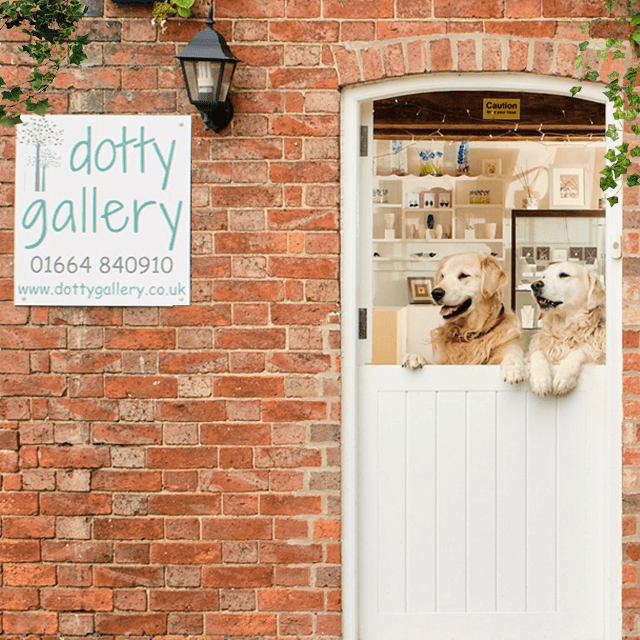 Run by Lesley Harris in what used to be the old bakery in Twyford, Leicestershire – Dotty Gallery is a showcase for contemporary silver jewellery (including the unusual!), ceramics, gifts, original art and greetings cards – items not usually found on the high street. Dotty has two showrooms plus a small gallery.
Much of the work is hand made by artisans from around the country, so if you are looking for something different, come along, grab a complementary coffee, wander around the shop and enjoy!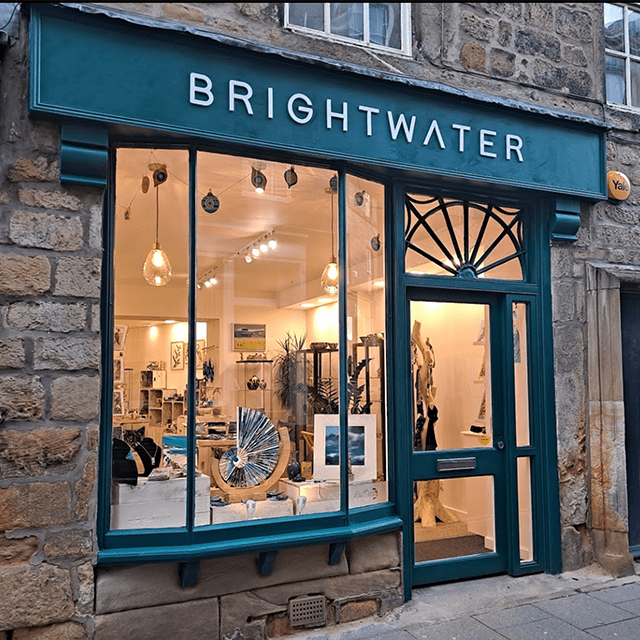 Situated in the heart of the bustling market town of Alnwick, Northumberland. Brightwater Gallery exhibit and sell contemporary art, jewellery and handmade decorations from some of the most exciting upcoming and established artists from the UK.
A beautiful space dedicated not just to art, this gallery also features a delicatessen which is home to a carefully selected range of locally and internationally sourced gourmet produce.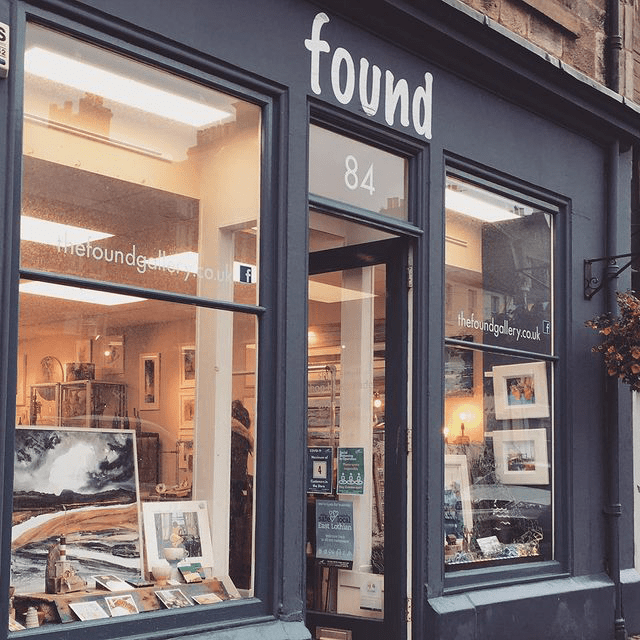 Beachcombing, salvage yards, skip hunting, market foraging and gallery musing. A great find can happen any time, anywhere. Indeed some of the best appear when you're not even looking! 
Found took this mantra to heart and created this home for an eclectic mix of hand-made beautiful things. They showcase an ever changing and often quirky selection of pieces to surprise and delight. Alongside owner Amy's own fused glass jewellery and photographic glass panels. They exhibit a rolling program of British Arts and Crafts from both emerging and established artists and makers.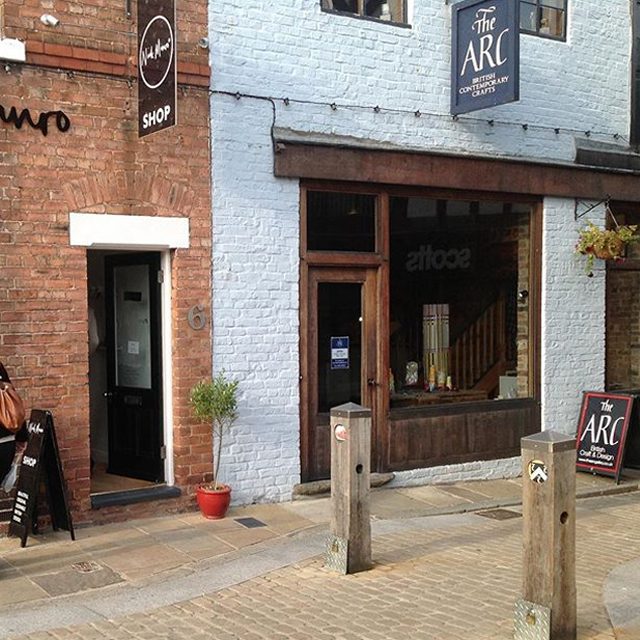 The gallery is housed in a beautifully restored 18th century brick and timber warehouse in Chester's historic city centre. Their vision is to offer you a haven from the repetitive predictability of the high street.
Over the last twenty years Arc have established their gallery as the leading independent craft gallery in the North West of England; winning two prestigious awards for retail excellence along the way, in recognition of their expertise and friendly, knowledgeable service.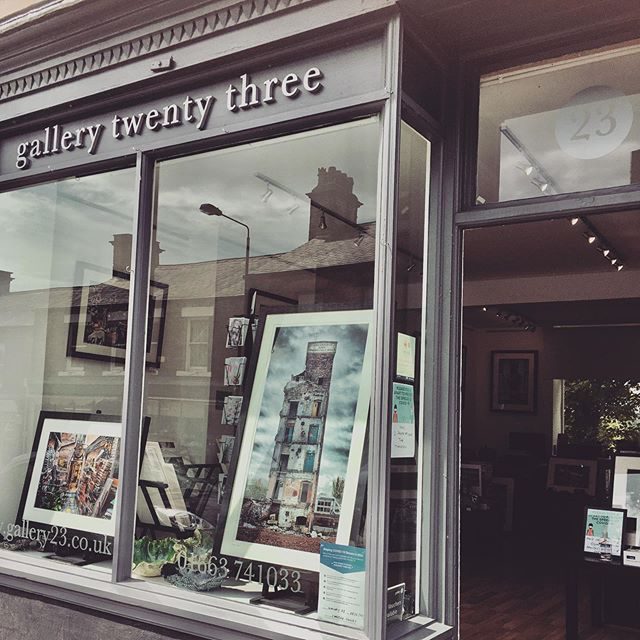 Located in New Mills within the beautiful Peak District, but only 30 minutes from Manchester city centre, Gallery 23 is perfectly placed to offer a relaxed, friendly environment for you to browse and enjoy the art on display.
The Gallery was originally created by resident artist Christine Ormsby. It has grown over time and now also houses a permanent exhibition by photographer Peter Aitchison as well as ceramics, sculpture and other exhibits from various local artists, with more added on a regular basis.
Commissions
To enquire about any commissions or if you would like to stock my work, please contact me directly via email: hello@lillyreid.com or through Instagram: @lillyreidceramics